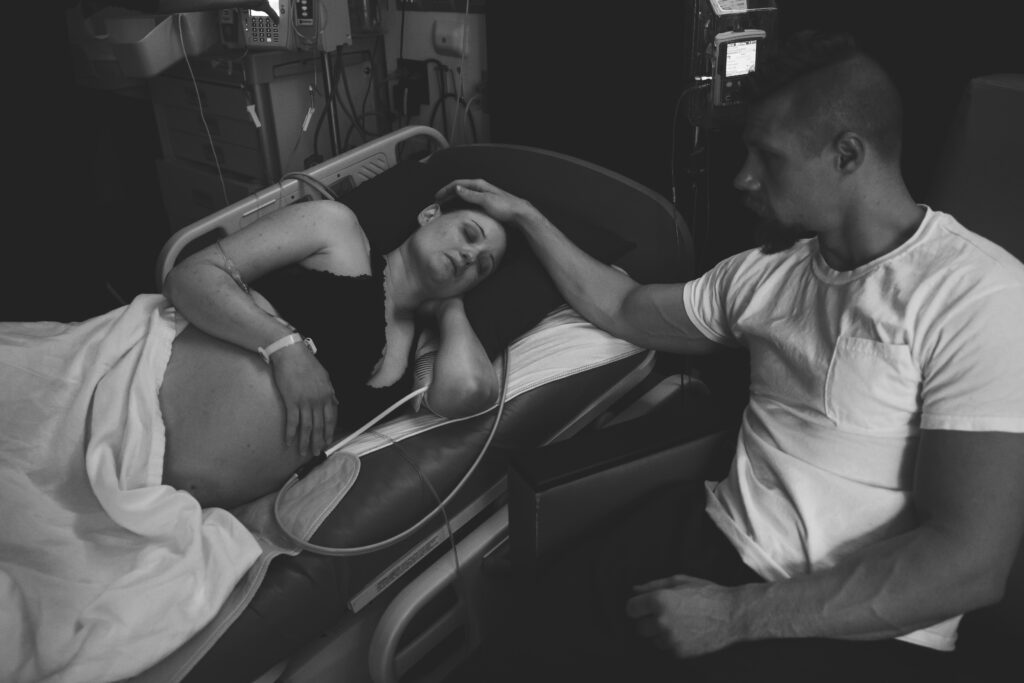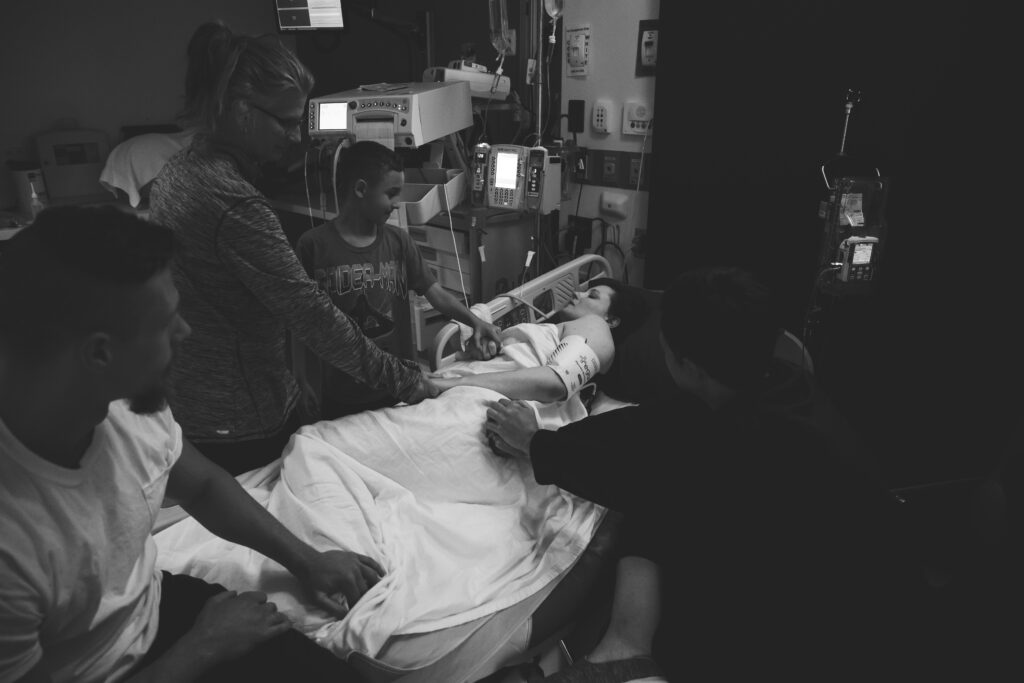 Birth photography allows me to document this once in a lifetime experience for you.
I respect your birth space while capturing the intimate details of your day. I will come to you during active labor and photograph from the time baby arrives until 1-2 hours after birth. I am also in training for my doula certification, and this can be an added service to your birth package.
Birth photography is intimate. Everyone wants different types of pictures, and has different comfort levels of discreetness. I will photograph as much or as little as you prefer and are comfortable with.
Photos are never shared without your permission and approval. During birth, you are focused on riding the waves of labor. I have heard many times from clients that they didn't remember things happening that I was able to capture.
As a laboring parent, you are in your own world, as you should be. Later you will be able to go back and look at what was happening around you. Partner's first expression, your first expression, those loving moments right after birth, the first feed, etc.
The investment for your birth story includes my on call time as well as my attendance at your delivery. You receive a fully edited digital gallery of 100+ images that capture the story of your birth.
$800
$200 deposit due upon booking, with the remaining balance due two weeks prior to your due date.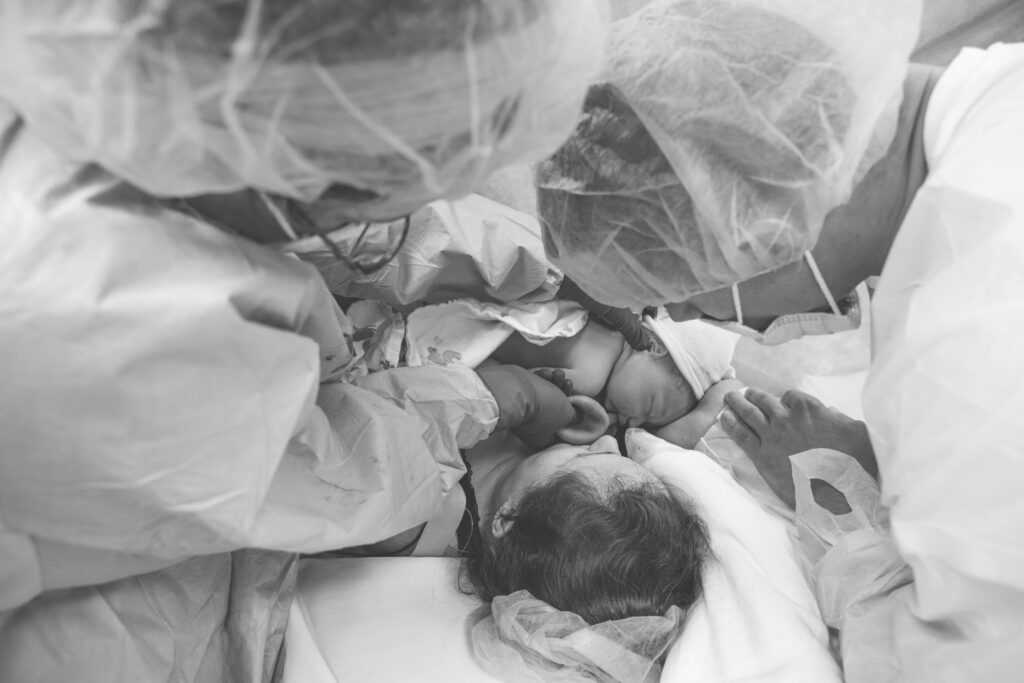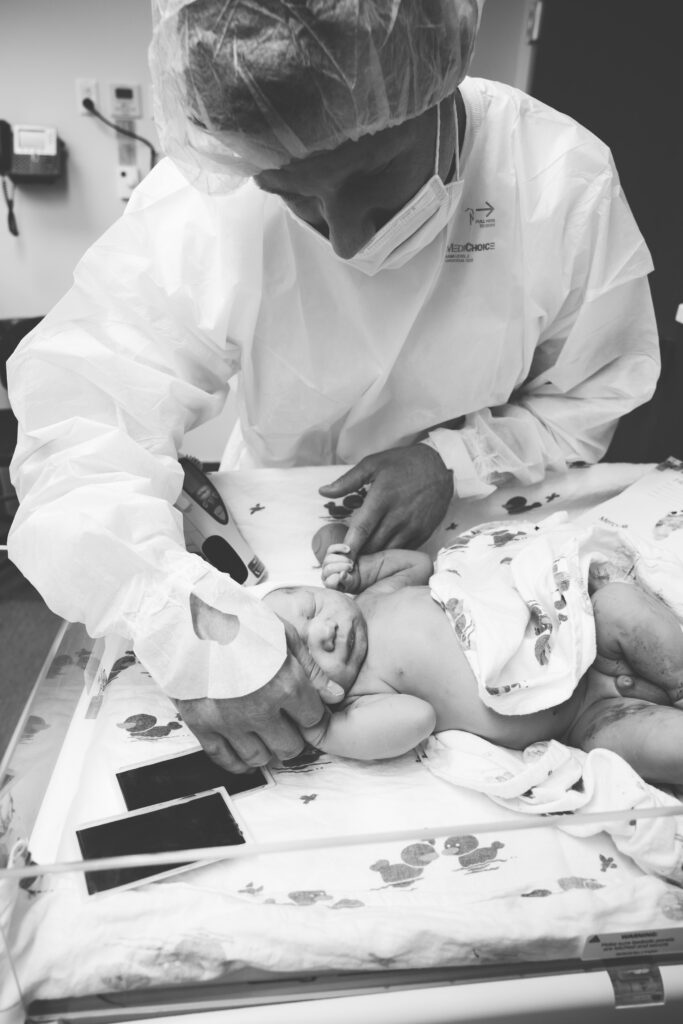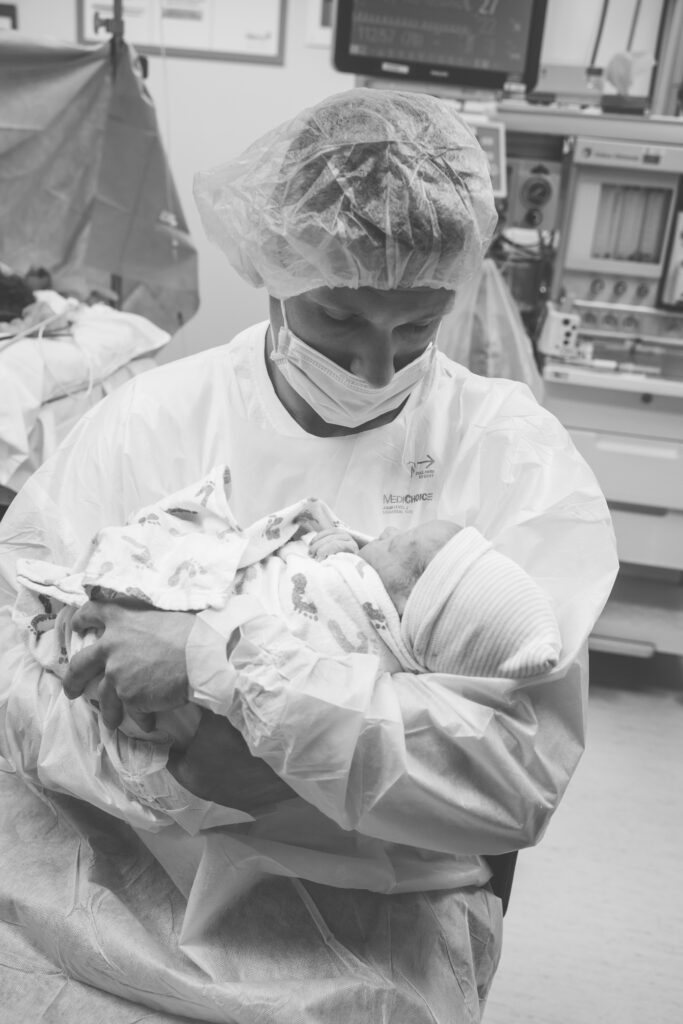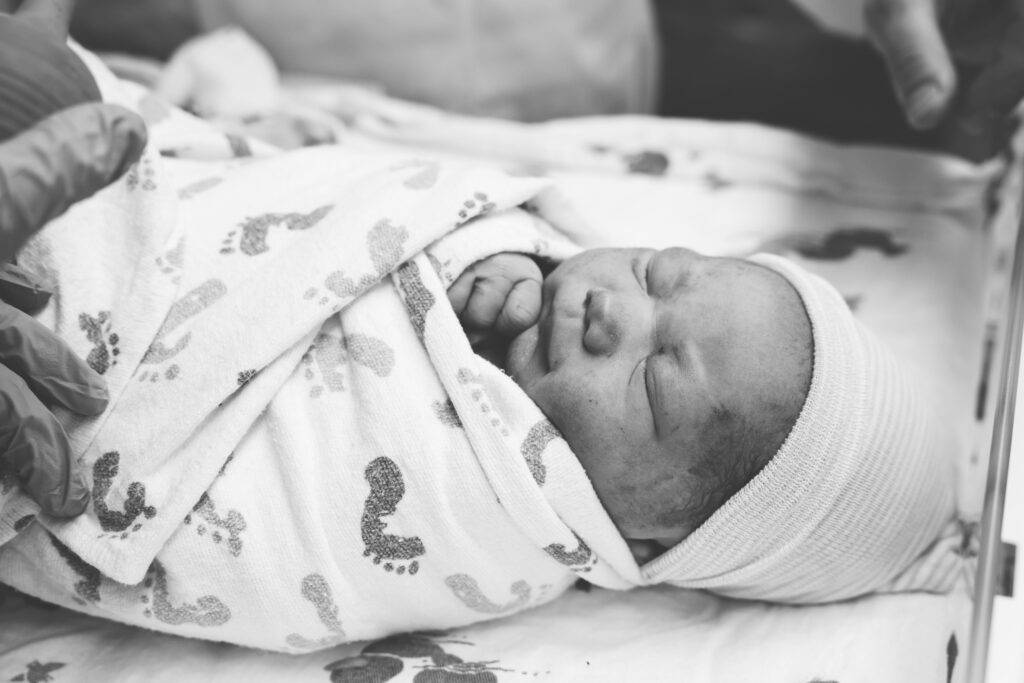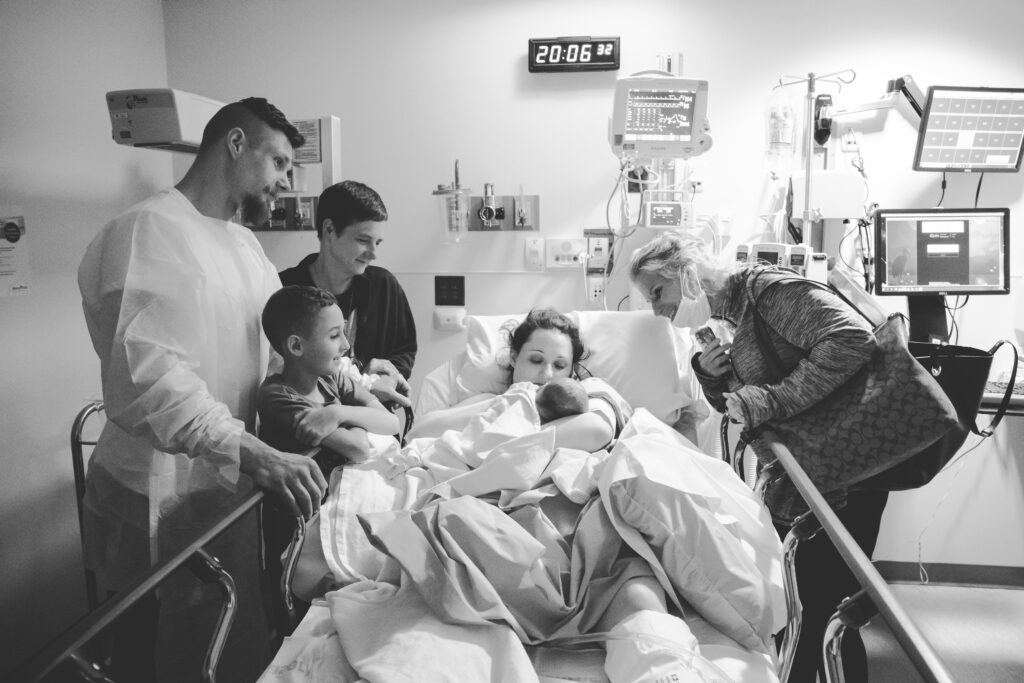 Thank you for inviting me to photograph your upcoming birth experience. Since births are a bit different than a standard session, here are some guidelines to insure I can give you the best experience possible.
Planned vaginal delivery or scheduled induction of labor: I will be on call for your birth 24/7 from 38 weeks through 41 weeks gestation. If your doctor or midwife schedules an induction or planned cesarean for you, please let me know immediately so I can plan that date accordingly. Please keep me updated via telephone or text when you leave for the hospital and upon admission. Dad/partner should keep me updated via text. My cell number is 618-541-6853. Please store this number in mom and dad's phones well in advance. My goal is to be at your place of delivery or labor before mom hits the point where she can no longer speak on the phone. If you are being checked for dilation, please keep me posted with your progress at each check. I plan to arrive when you are approximately 7cm dilated, depending on how rapidly your birth is progressing. Please note that it takes me approximately 45 minutes to arrive at the birth location from your initial phone call, to being by your side. I will stay with you through the rest of your labor/birth, and 1 hour post birth to document weight, footprints, family/baby interaction, etc.
Please contact me as soon as you *think* you might be in labor so I can begin making plans to be there. Even if it's 2 a.m. Even if it's a false alarm! I would much rather be ready to roll than to miss the event! It is also helpful for me if you check in after doctor's appointments in the weeks before labor and let me know how things are progressing and/or if there will be any changes to your initial birth plan.
Scheduled Cesarean Section: I will provide coverage 1 1/2 hours prior to, during (if permission is granted), and post-delivery. Images will be provided in a documentary fashion, documenting your experience as much as possible, as well as documenting your baby's first moments.
Your birth session includes: A maximum of 8 hours of photography for labor, delivery, and post-delivery Photography. Sneak peek will be sent within 48hours of delivery. Additional hours of photography can be added if necessary for $100/hour. In most cases, my time begins when I arrive at your birthing facility (when you are in active labor, or 7cm) and ends 1 hour after birth.
AGREEMENT OVERVIEW: This agreement contains the entire understanding between Beautiful Beginnings Photography and the above listed client. It supersedes all prior and simultaneous agreements between the parties. The only way to add or change this agreement is to do so in writing, signed by all the parties. If the parties want to waive one provision of this agreement, that does not mean that any other provision is also waived. The party against whom a waiver is sought to be effective must have signed a waiver in writing.
COOPERATION: The parties agree to cheerful cooperation and communication for the best possible result within the definition of this assignment. Beautiful Beginnings Photography is not responsible if key individuals fail to appear or cooperate during photography sessions or for missed images due to details not revealed to Beautiful Beginnings Photography.
LIMIT OF LIABILITY: In the unlikely event that the photographer is injured or becomes too ill, or has an extreme emergency that prevents her from photographing the agreed upon session, responsibility and liability is limited to the transfer of deposits made to the session types of Fresh 48 and Newborn Session rather than birth. Due to the nature and timing of birth being unpredictable, Beautiful Beginnings Photography cannot be held accountable or liable for a missed birth. Beautiful Beginnings Photography takes the utmost care with respect to exposure, transportation, and processing the photographs. However, in the unlikely event that photographs have been lost, stolen, or destroyed for reasons within or beyond Beautiful Beginnings Photography's control, the liability is limited to the return of all payments received for the portrait package. *If we cannot provide coverage as a result of client's actions or due to circumstances beyond anyone's control, all fees paid will be applied toward a Fresh 48 and Newborn Session. Examples of this include, but are not limited to: failure to provide adequate notice of the baby's birth; an unexpected transport for a c-section; a dramatic change in the birth plan. In instances like this, beyond our control, no refunds will be given.
RETAINER & PAYMENT SCHEDULE: 50% of the total cost is due at time of signing this agreement. This is a NON-REFUNDABLE RETAINER. In the event of cancellation by the client, the retainer paid is non-refundable. It shall be liquidated for damages to Beautiful Beginnings Photography. In the event of a cancellation, or breach of contract by the CLIENT. The retainer shall be applied towards the total cost of the service to be rendered. The remaining charges are payable in full on the date of the session. If you decide to cancel our services for any reason, please let us know at least 30 days before your due date. Your initial deposit is non-refundable in this case, but any other fees paid up to this point will be fully refunded. By completing this contract, you are confirming that your place of delivery will allow birth photography. You agree to informing Beautiful Beginnings Photography of any guidelines or procedures that must be followed. Failure to do so will result in loss of deposit. Beautiful Beginnings Photography is hereby not responsible for any situation in which this contract is not fulfilled due to unknown hospital or birth center policies. Please also know that we will be limited by the guidelines (if there are any) of the facility and/or the delivering doctor/midwife, some of which arise during delivery. Negotiation for moderation of the guidelines is your responsibility. If you are planning a birth at home or in a birthing center, please check with your midwife AND your back up hospital in case of a transfer. We try to be unobtrusive and document the birth as best as we can with the available lighting. Low light situations cause images to be more raw – perhaps with a bit of film grain or motion blur, this is normal. Most images will be delivered in black and white, though any images delivered- color or black and white- will be at the artistic discretion of the photographer.
***In the very unfortunate case of stillbirth or complications causing the baby to pass away, Beautiful Beginnings Photography is also a designated photographer to the "Now I Lay Me Down To Sleep" organization, and I would love to still provide photos for your family to cherish for free of charge (any previous payments made would be refunded in this unfortunate situation). I strive to be extremely sensitive, taking extra care and concern during a difficult time like this. I realize photos would most likely be the last thing on your mind during a time like that, but they are extremely important part of remembering and cherishing your beloved child, and you will want them some day to look back on.***